Every day, researchers develop ideas for new potential cellular therapies and show their effectiveness preclinical in vitro and in vivo studies. Once potential candidate cell therapies have been identified, the UCSF Cellular Therapy Development Laboratory (CTD) under the leadership of Dr. Jonathan Esensten is available to partner with researchers to develop a drug product, submit required regulatory filings, and manufacture products for phase 1 clinical trials.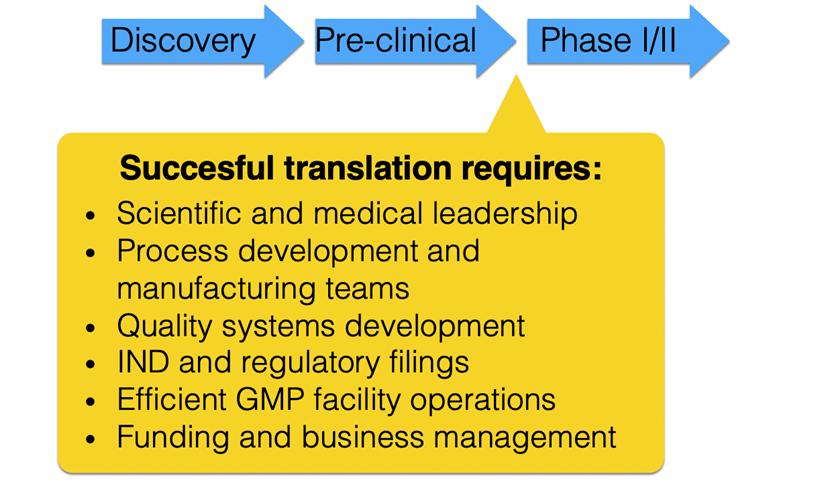 The first step in developing a new cell therapy is assembling a formal target product profile (TPP). The TPP which is a standard approach used in drug development to identify the critical attributes of the new therapy. Through this TPP process, barriers to drug development and manufacturing will be identified and potential manufacturing strategies will be mapped out. This process involves a multidisciplinary team knowledgeable about technical, quality, clinical, and regulatory aspects of drug development. This work will culminate with a pre-IND or FDA INTERACT filing. Information gained from this filing and follow up meetings is critical for further development of the full IND.
The CTD lab works in close collaboration with the UCSF Alpha Stem Cell Clinic, the Parker Center for Cancer Immunotherapy, and the Innovative Genomics Institute to bring innovative ideas for cell therapies to clinical trial. Any principle investigator at UCSF, UCB, or an affiliated institution is welcome to partner with the CTD. Availability of adequate funding is the most important criterion for access to CTD resources. Final decisions about project entry into the pipeline are made by the leadership team listed below. Collaborations with biotech or pharma partners may also be considered on a case by case basis.